My interest has always been in images... as a kid growing up in the Black Country in the 80's I was never really interested in reading unless there was a cool picture to draw me in. I remember a mate of mine had the Professionals (off the telly) Spy Kit for Christmas & along with the plastic gun & ID badge it came with a real camera… I needed one of those!  My Dad was into photography and the fact that I had a clip round the ear if I went anywhere near his camera maybe fuelled the intrigue.
Fast forward to Stourbridge in the early nineties and a long haired Dave Green was the true art college student. Happy days spent in the dark room listening to The Wonderstuff while processing my rolls of medium format black & white film & learning the art of hand printing on Ilford paper. The magic was starting to happen, I really was hooked. After a lucky break getting work in a studio in Highgate at the back end of Brum it was a further 9 years of freelance and full-time assisting, and shooting little jobs that my then boss was too busy to do before I was ready to make the jump. At the time it felt like forever, I thought I was never going to make it out on my own but I don't give up easily.
Finally, it was time to go it alone. Moving out of Birmingham, leaving the full time job and security of weekly wages to renting space in a studio in Droitwich with another like minded photographer. 
Now the learning really started...
Constant analysis of every shot I'd taken to this point while working with my old boss had served me well, and although he said I was too concerned with the details I believe that its this quality that has always kept clients coming back. Nearly 18 years on and well over 1600 jobs in hand. Thankfully the long hair is long gone... and a well groomed, highly professional attitude has taken its place.  I still agonise over the details but now with a hi end skill set that has seen me work with Michelin star chefs, business leaders and world class academics. I shoot architecture and interiors in some of the most notable buildings, hotels and universities up and down the country for names like Karndean and Brintons, Exclusive hotels, and Birmingham University. Everything I do is about the lighting, whether its people outdoors, or a floor plate of a newly refurbished office block in the posh end of town it always starts with lighting. Then come the details, the expression & the emotion, the colours, textures & shape.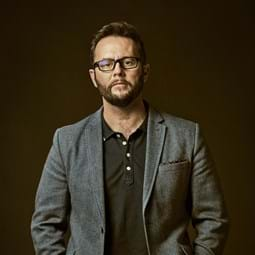 I love working with people and trying to get across the emotion of whatever it is they are trying to do or achieve. Be it a man operating a lathe making finely crafted door handles, a truck driver for a global logistics company or city high flyers in a meeting.

Dave Green
Getting across another hard working humans pride in their work is a great thing and something I'll never tire of. Day to day I travel all over the country with my long time freelance assistant Gary and we have a good time. Our jobs are always fun, regardless of the pressure we keep it laid back and relaxed and have a bit of banter where its appropriate. Even when were up against it, I like to think it doesn't show. Along side being a commercial photographer I'm a husband & dad of two amazing teenage girls. I'm always fired up about my work and family which is pretty much my entire life and the occasional bit of free time outside all of that sees me rock climbing, mountaineering, cycling or blasting around the countryside on my beloved R1 basically too many loves for the limited spare time I have. Oh and very occasionally (but only in private) I still listen to The Wonderstuff - you can take the lad out of Stourbridge…